Read the full story  here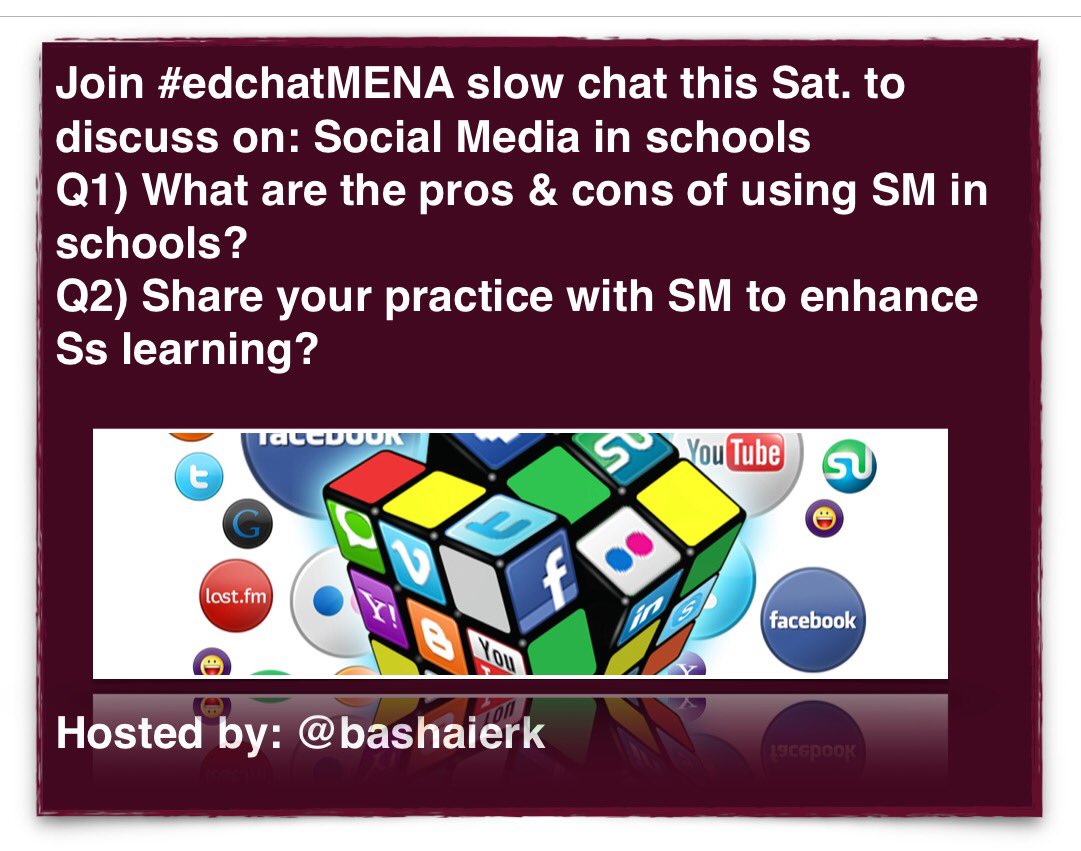 Read #edchatMENA story on Game-based Learning here
Game-based Learning is being broadly adopted in both children education and adult education. The Game-based Learning market is growing exponentially. Worldwide revenues for Game-based Learning products reached $2.6 billion in 2016 and will surge to $7.3 billion by 2021 (Adkins, 2016).To meet the needs of the innovation era, education needs to develop groundbreaking teaching methods. Such methods should embolden lifelong learning skills. If we are aiming to nurture the innovative minds of the learners then we should cultivate effective learners' soft skills alongside with hard skills. These skills include communication, personal, interpersonal, creativity, influence, leadership and entrepreneurship skills. To develop these skills, it is mandatory that leaners be engaged in real world scenarios. Virtual environments such as Game-based Learning can simulate these scenarios, which enable learners to analyze problems and reach meaningful informative decisions. According to NMC Horizon Report (Johnson et al. 2014) educational gameplay has proven to foster engagement in critical thinking, creative problem-solving, and teamwork — skills that lead to solutions for complex social and environmental dilemmas. This post will discuss the what, why and how of Game-based Learning.
What is Game-based Learning?
Though sometimes used interchangeably, Gamification and game-based Learning are two different learning methods and it is essential to distinguish between the two of them. Gamification is using game-based mechanics, aesthetics and game thinking to engage people, motivate action, promote learning, and solve problems" (Kapp, 2012, p. 10).  On the other hand, Game-based Learning is defined as "activities that have a game at their core, either as the main activity or as a stimulus for other related activities, and have learning as a desired or incidental outcome" (Kirriemuir and McFarlane 2004, p. 7).
Why 'Game-based learning'?
Game-based Learning Motivates learners
Students' motivation ignites and maintains the learning process. The digital natives are pining to learn using technology. One of the distinguished features of Game-based Learning is that it captures learners' attention, which leads to engaging them in a joyful learning experience. While in traditional learning students study to prepare for the test, in Game-based Learning learners are intrinsically motivated to play and compete in a problem-solving context. This meets the innate curiosity of learners, which leads them to embracing a growth mindset where they 'fail early and fail often'. Current technological tools provide room for creating authentic learning environments where content comes to life and eventually increases student engagement and motivation (Ertmer & Ottenbreit-Leftwich, 2013).
Enhanced assessment
In Game-based Learning, educators can closely observe the advancement of learners' skills. Games' systems provide detailed reports on user progress such as on task time, multiple attempts, and achievement level. Therefore, Game-based Learning represents a great formative assessment tool.  Furthermore, Game-based Learning enhances self-assessment through instant feedback, which helps learners to reflect using the thorough skills' mastery data to identify weakness and strength in performance.
Game-based Learning is about active learning
The Game-based Learning method is underpropped by active learning theory. This theory places students at the center of the learning process where they are engaged participants and not only vessels to be filled with knowledge. Game-based Learning provides simulated virtual environments where learners go through safe exploration experience. With team gaming mode, even more collaboration and interaction can be brought to the table.
How to get started?
Teachers need to feel confident about implementing Game-based Learning in their teaching. They need to have professional development on how to integrate games in learning process. Some of the challenges teachers are confronted with are lack of professional development, difficulty to find tailored games that matches the targeted learning objectives and availability of IT resources and infrastructure. Here are some tips on how to overcome the obstacles hindering the launch of Game-based Learning.
Personalized professional development
With the ubiquitous use of technology in our lives, it is easy to plan a personalized professional development. If you cannot find a pioneer colleague in your school or district who is using  games in learning then you might find an online educator who shares his/her experience through social media platforms and online discussion forums. Being connected will place global experience at the tips of your fingers.
Available resources in your school
IT infrastructure and resources are determinants of what and how you will use Game-based Learning. It is crucial to get in contact with the IT team at your school to check on connectivity and hardware software platforms in use. You can start by using the available resources whether it is Desktops, Laptops, tablets or mobile phones in some cases. Looking at the promising outcome of Game-based Learning in the classroom, management would be encouraged to invest more in it. However, technical wise, electronic games are becoming more generic. This means that they are designed to work online or across different platforms. This gives you a variety of options to choose from so that you can meet the resources' capacities in your school. It is key to be flexible and to try alternative solutions.
Which games and why?
You will certainly be overwhelmed with the vast results obtained by searching the web for a desirable games. How can you decide on the quality of an educational game and what is the criteria for choosing a game to be used in your classroom? Keep in mind that there is no best answer for these two questions. It is a matter of choosing what meets your objectives and meets the learners' needs.
There are three games types when it comes to design:
Games designed by the teacher
In one hand, this type enables you to customize the game product to meet your needs; on the other hand, it entails a challenge for teachers because it needs good technical and game design skills. Therefore, it is a time and effort consuming process.
Game authoring tools
Many tools out there will help you in building your games on top of a template. Although your design will be limited to the templates available, it still seems more feasible than the first type. Less time, effort and design skills are needed.
Ready-made games
It is a huge gaming industry out there and it keeps growing. This resulted on the obtainability of many 'of the shelf' games. However, you need to expect these games to cost more than the first two types of game design. Meeting the specific requirement of your lesson with a ready-made game will not be an easy target. You will have to compromise a tailored product to an effort-effective one.
Games are played for entertainment. It should be fun to play a game. In Game-based Learning, fun should happen in a context where students are learning and are assessed. While personalized professional development will help you to extend your knowledge to what other teachers think about specific game context, students can help with what kind of fun will help them to learn. Try following these steps:
Start by filtering the games that meet your objectives to the ones that balance entertainment, learning and assessment.
You can then let the students chose from these according to their preference. This will motivate the students to learn and will differentiate their learning.
Do not forget to try the game yourself and to familiarize yourself with its mechanics. This will help you on using the data and feedback provided by the game to assess your students.
Game-based Learning could be a great opportunity for educators to 'revive' learners' authentic engagement. Game developers are taking Game-based learning to the next level by working on more education oriented solutions. Let's raise our score in the game of transforming education and in making it 'fun to learn'
Useful Resources on Game-based learning
https://www.edutopia.org/search-results?search=game%20based
http://gamifi-ed.wikispaces.com/
http://www.edudemic.com/23-best-game-based-resources-2014/
http://www.theknowledgeguru.com/100-great-game-based-learning-and-gamification-resources/
http://www.techlearning.com/default.aspx?tabid=100&entryid=7263
http://seriousplayconf.com/downloads/the-2016-2021-global-game-based-learning-market/
References
Ertmer, P. A., & Ottenbreit-Leftwich, A. (2013). Removing obstacles to the pedagogical
changes required by Jonassen's vision of authentic technology-enabled learning.
Computers & Education, 64, 175–182. doi:10.1016/j.compedu.2012.10.008
Johnson L, Adams S, Estrada V, Freeman A (2014) NMC Horizon Report: 2014 Higher, Educationth edn. The New Media Consortium, Austin
Kapp K (2012) The gamification of learning and instruction: game-based methods and strategies for training and education. Pfeiffer, San Francisco
Kirriemuir, J., & McFarlane, A. (2004). Literature review in games and learning. Futurelab. Retrieved from http://www.futurelab.org.uk/resources/documents/lit_reviews/Games_Review.pdf.
Sam S. Adkins (2016). The 2016-2021 Worldwide Game-based Learning Market, Ambient Insight, LLC.
Read full story here